Sight is a precious thing, and great care must be taken to protect the eyes. For many people, that means wearing protective eyewear when working or playing in their daily lives.
People who are sports shooters and hunters require an extra level of eye protection for a number of reasons. Flying shells can strike the eyes. Also,  water, ice, snow or debris of many kinds can also affect a shooter's vision at critical times when they need crystal clear sight the most.
Without the proper protective eyewear, shooters can lose control of their aim, and dangerous shots can go off course. The right protective eyewear can protect sportsmen and others during a competition or a hunt.
To guarantee the safety of both the shooter's eyes, other people, and pets, ensuring protective eyewear is in good working order is critical. Therefore, finding and using protective eyewear that is appropriate for your needs is an important step to prepare for all shooting.
The Different Types of Protective Eyewear
Most common protective eyewear comes in a range of forms, such as safety glasses, safety goggles, and sports goggles. These are available through most hunting supply stores and many companies online. Protective eyewear is usually not too expensive, although you'll pay more for top-of-the-line gear.
There are some very stylish models of different eyewear available that are attractive as well as ultimately functional, so you can look your best while staying safe as well. Let's take a peek at some of the different types of protective eyewear you can easily find.
1. Safety glasses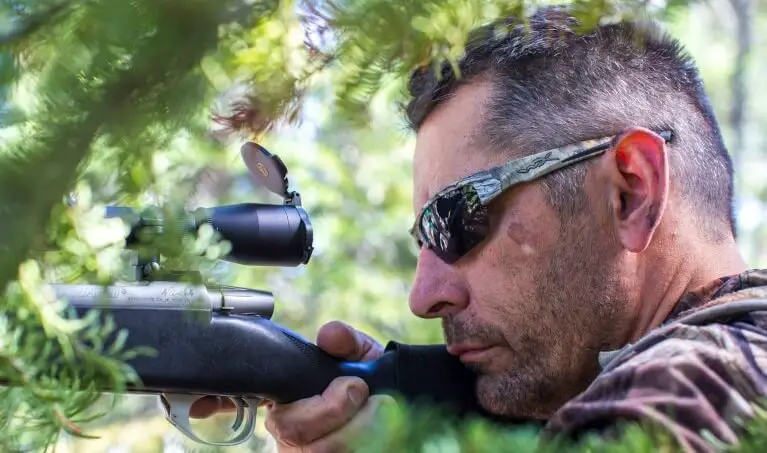 Safety glasses are generally well-known, and most people think of them as the big bulky glasses used in chemistry or shop classes. There are many different kinds of safety glasses, however, and modern technology has produced whole new strains of them that did not exist only a few years ago. Some of the types of these modern safety glasses include bifocals, polarized, colored, infrared, and many more.
Here are some feature of safety glasses on the market.
Bifocal lenses available in different strengths to match your vision needs
Magnification features available for up-close reading
Rubber molding on some models for comfort
Nose bridge molding custom-designed to fit most users
Tinting
Colored lenses
Cut glare with polarized lenses
Mirror coating available
Hard-coated treated lenses
Unbreakable construction available
Rugged and durable
2. Safety goggles
Safety goggles are much like safety glasses and were even boxier back in the day. However, in modern times, these goggles have many new features previously unavailable.
Some of the features you will find in today's safety goggles include:
Colored lenses
Space age materials
Scratchproof coatings
Hardened shells
Unbreakable construction
Glare reduction
Infrared protection
Comfortable design
Breathing holes
3. Sport goggles
With all of the different types of goggles available, you will have a hard time choosing the one you love the most. You might even end up getting several pairs, so watch out. These goggles have many of the features of the safety glasses and safety goggles, plus benefits such as:
Adjustable cloth headbands
Adjustable lenses
Inner lenses
Fog protection
Waterproof
Shatter resistance
General Facts About Eyewear Safety
For those who are into sports, especially the clay shooting sports where you must think about the risk for eye injury, use safety glasses, safety goggles, or sports goggles is an absolute must.
Eyewear protects the eye in several ways. First, flying debris or other dangers can strike the eye, or even gun malfunction can sometimes create serious dangers. In many cases when these events occur, having rugged safety eyewear can prevent the worst from happening.
In other concerns, sunlight exposure can cause strain on the eye, and direct sunlight can blind the eye temporarily when taking shots, causing even further danger. You can avoid these risks by simply wearing and using eyewear that protects you and your eyes. You want to keep others and yourself safe from many unfortunate events during shooting or hunting.
It is best to be prepared by always wearing protection for your eyes. An ounce of prevention is worth a pound of cure, and there is no restoration of sight once lost due to negligence or carelessness. Nothing is worth that risk, so protect your eyes when you are preparing for your game.