Clay pigeon shooting is an umbrella of shooting sports that covers skeet shooting, trap shooting, and clay shooting. Finding the right clay pigeon thrower for your sport is what is going to get you to up your game.
Having a good thrower can make a monumental difference in the way you shoot because consistent throwing allows you to train for consistent shooting. There are two main types of throwers – automatic and manual.
We're going to discuss both of them and help you figure out which one is going to be best for your shooting situation.
Automatic vs. Manual Clay Pigeon Throwers
There are a lot of pros and cons between the two categories of throwers. Truthfully, both would work for the different shooting sports, but the reality is that you're going to have a preference for either the manual or automatic versions.
Manual clay pigeon throwers are extremely adjustable because you have to set them up and launch them yourself. That allows for a variety of launch angles for you to aim for as your clays hit the skies. To make these work, though, you're going to need to go shooting with a friend.
Automatic clay pigeon throwers are a lot easier to use, especially if you're by yourself. Auto-loaders are also designed to hold multiple targets, which makes it more convenient when you're shooting off the targets that are being launched.
On some models, you can even adjust the speed, trajectories, and even flight patterns of the clays that are being thrown. By doing so, you can create new challenges for yourself without having to rely on anyone else.
The automatic ones range, too, in how they work or how many clays they hold. Some are simple and are hand-loaded, cocked, and released. You'll also find other throwers that can hold several hundred targets that are just waiting to be launched.
How do Automatic Clay Pigeon Throwers Work?
They are surprisingly simple when you think about how they actually work. You'll usually find a battery of sorts that powers the throwers. You will use either a pedal, button, switch, or remote to enable the thrower.
In most cases, because of their usability, automatic throwers are the preferred choice among professionals and those looking to improve their abilities. If you also like to go out and shoot on your own without needing to have someone with you, then the automatic clay pigeon thrower is going to be the way to go.
As you do your research, there are a few things that you need to understand, so you know what you're reading about when it comes to clay pigeon throwers. For one, they are used in all shooting sports related to clay throwing. That means that a clay pigeon thrower is used in skeet shooting, sporting clay throwing, and trap shooting.
With that said, the difference between the three lies in the way they are thrown. Skeet shooting takes place when you've got two different throwers launching in different directions that will throw clays that will cross paths.
Sporting clay shooting is different because of the way the clays are thrown from the clay thrower. Instead of having a single clay thrown from a predictable distance, sporting clay shooting occurs over courses that are designed to mimic hunting. The targets become very unpredictable, making this the most similar to real field shooting.
Trap shooting, on the other hand, is a lot like skeet shooting in that clays are thrown from a predictable distance. In this type of shooting, there is only one clay that is thrown that must be hit when you aim and shoot. When it comes to shooting clays, this is usually the first step in this line of shooting sports.
At that point, you should understand that clay pigeon throwers are used by all types of clay shooting sports, so finding the right one depends on what your goal is. If you want to improve your ability in sports clays, you may want something different compared to desiring improvement in skeet shooting.
A Few Things to Consider Before Buying a Clay Pigeon Thrower
These things can be expensive, so you're going to need to set a budget beforehand, so you know what you're getting yourself into. You can expect a clay thrower to run you anywhere from around $200 to easily several hundred dollars.
To determine whether or not the price is worth the machine, you'll want to get to know more about the build quality of what you're looking at. Read through reviews that disclose whether or not the equipment is durable and sturdy. After all, it is going to have to take a beating as it whips out those clays that you're trying to shoot out of the sky.
You'll also want to research the overall performance of the thrower. Again, read reviews from people who have used these throwers firsthand. That will tell you a lot in terms of whether or not the $400 price tag is worth it. The last thing you want is to spend a chunk of money and realize that it's not performing the way you expected.
It has been said that you want to know your goals before you select your clay pigeon thrower, but it merits repeating because it really is just that important. If you get a thrower that is capable of going in any direction and to any degree, that may be the way to go if you're going to focus on sporting clays.
Alternatively, if you're taking a troop of Boy Scouts out to learn how to shoot, they're going to be better off with a single-release thrower with a consistently predictable trajectory. They do have to hit 25 out of 50 different clays, and for most of them, this type of shooting is new. You'll want to go with something a little easier to hit as they start to build their skills.
A Few of the Best Clay Pigeon Throwers
With all of the clay throwers that are out on the market, it's easy to get overwhelmed. We've got a few here that have proven to be fantastic options that will work well for their intended purpose.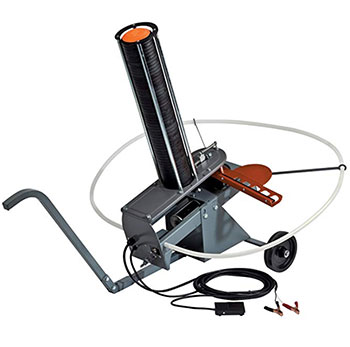 It is pretty impressive to know that a Champion WheelyBird can throw up to three thousand clays on a single charge of the 12-volt battery. If you're going to be shooting that much, then you're probably leaning more towards the professional circuit.
Rest assured that the WheelyBird is a quality machine, but it is best suited for both skeet and trap shooting. It is also lightweight which makes it perfect for those of us that can't maneuver a 45 lb thrower very well.
Professionals will appreciate that this thrower can hold up to a full fifty targets inside the magazine at any given time. There is a pedal that you press to release the clays at your leisure, making this an excellent choice for someone who wants to practice by themselves.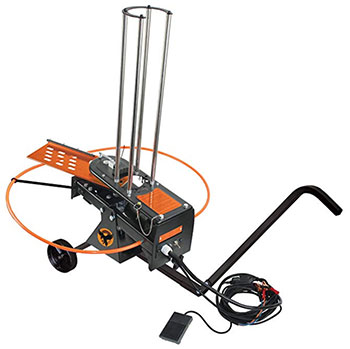 The Do-All Raven Automatic thrower will throw your clays as far as 50-80 yards. You'll appreciate that it also has wheels attached to the base, making it very convenient when it comes time to move it from place to place.
This clay pigeon thrower is also best left for either skeet or trap shooting. Once you set the position, if you want to change the angle or direction, you're going to need to move it again before you take your shot.
Be aware that this clay thrower also handles every clay from standard to biodegradable to international size. The versatility is fantastic if you're a professional because you can shoot at all different targets and get a feel for how they all behave as you're launching them.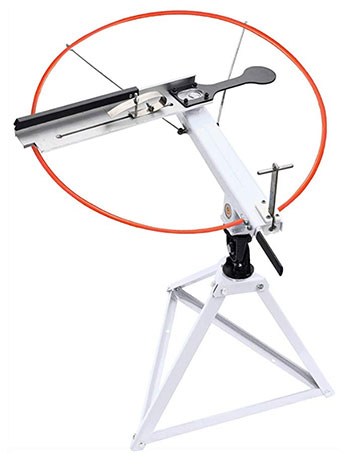 This clay thrower is ultra-simple compared to the other throwers. It is durable, too, and can throw clays as far as 70 yards. What makes this one unique, though, is the design and how it is meant to function.
It sits on a sprocket mechanism that allows you to adjust angles, planes, and directions on the fly. That means you can use it to launch targets in any direction you wish. With the versatility afforded by this model of clay thrower, it is an excellent choice if you want to improve your shooting skills when it comes to sporting clays.
The machine is easy enough to use, too, and get started right off the bat, and it is great for weekend shooters. The simple yet versatile design ensures that it will not be something you get tired of too quickly, too.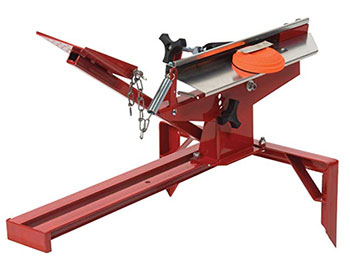 This clay pigeon shooter is reliable and dependable, too. It's also relatively inexpensive comparatively speaking. The shooting is consistent, too, and offers one-step cocking to prepare the target for launch.
A perk of this particular thrower is that it can throw single clays or double clays, making it a great option for trap shooting. The design also lends itself to being simple enough to use by yourself if necessary.
The lightweight thrower is a great option for the novice shooter as it shoots consistently in a predictable direction. As such, it's a great first launcher for trap shooting.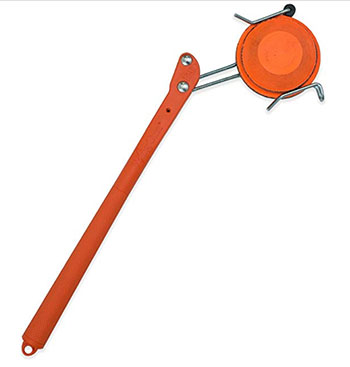 Handheld clay throwers tend to be manual, but this one has a bonus as a semi-automatic launcher. It's easy to load and launch in addition to requiring very little maintenance to keep it functional.
To launch, you'll need to load it, and you will likely need someone else to launch it for you. At the very least, it is a great way to get your friends together to try something new. It is also surprisingly durable and consistent in its launches.
You can also choose several different clays to launch, and that means that the versatility makes it a prime choice if you're looking for something along these lines.
Do keep in mind, though, that if you go this route because it's more affordable if you're new to the sport, you're going to need someone else to help you with launching.
Comparison Table
| PRODUCT NAME & RATING | IMAGE | DETAILS | PRICE |
| --- | --- | --- | --- |
| | | Capacity50 ClaysMaximum Launching Distance55-75 YardsItem Weight48 poundsProduct Dimentions26 x 12 x 12 inches | |
| | | Capacity50 ClaysMaximum Launching Distance55-80 yardsItem Weight48.1 poundsProduct Dimentions20 x 20 x 20 inches | |
| | | Capacity50 ClaysMaximum Launching Distance70 yardsItem Weight21.9 poundsProduct Dimentions22.9 x 7.8 x 4.8 inches | |
| | | Capacity–Maximum Launching Distance–Item Weight1.34 poundsProduct Dimentions5.9 x 4.9 x 1.6 inches | |
| | | Capacity–Maximum Launching Distance–Item Weight​-Product Dimentions0.6 x 9.8 x 5.2 inches | |
A Few Last Words on Picking a Clay Pigeon Thrower
Clay pigeon throwers are meant to provide you with a way to practice aiming and then shooting. Ideally, you're going to want an automatic launcher, but if you prefer a more manual setup or perhaps a semi-automatic, there are options for that, too.
Truly, there are clay throwers for every budget and for every shooting sport. As you make your selection, you're going to want to think about what your plans include. Will you be shooting sporting clays? What about skeet or trap shooting?
As you figure out what you hope to accomplish, you'll be able to pick out the one that is best for you and your shooting efforts. When in doubt, do your research, read reviews, and get to know as much as you can about the various models you're considering.
(kw: clay pigeon thrower)Featured Image via Amazon