Skeet and trap are excellent sports to hone your hunting and shooting skills. They take years to master, and even then, you'll need to keep up the practice to maintain your ability.
For those just getting started, it's hard to know which pump action shotgun to choose. With so many options out there, how do you pick the right one?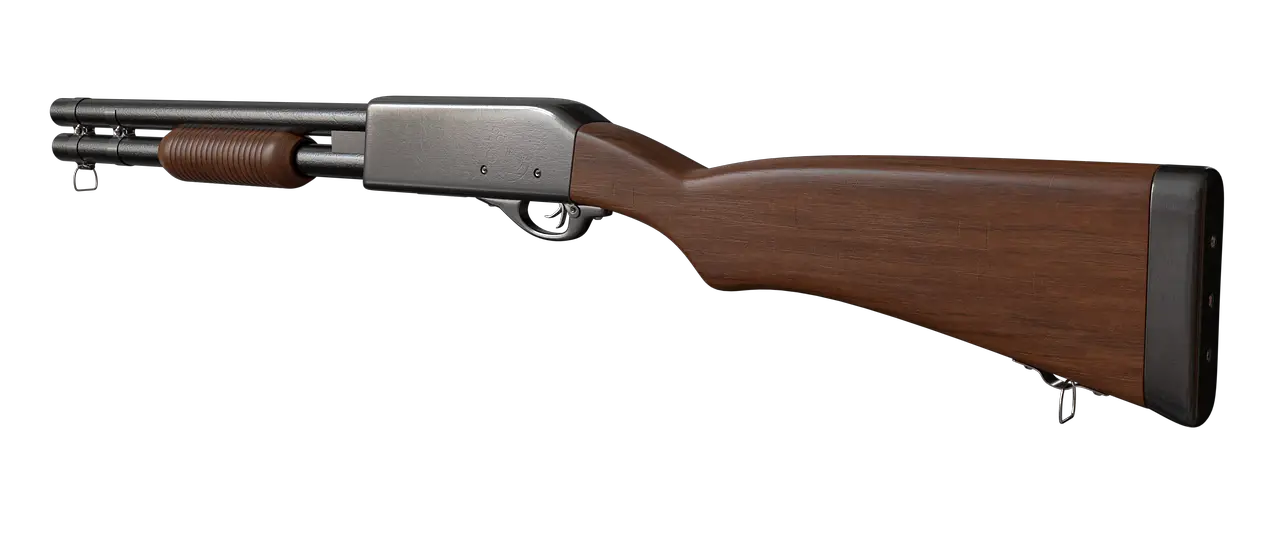 Plus, shotguns are a big investment, so you want to make sure you're making a well-researched decision.
This handy guide will not only provide some examples but also offer some useful tips for picking the right shotgun for you.
Pump Action Shotgun: History and Interesting Facts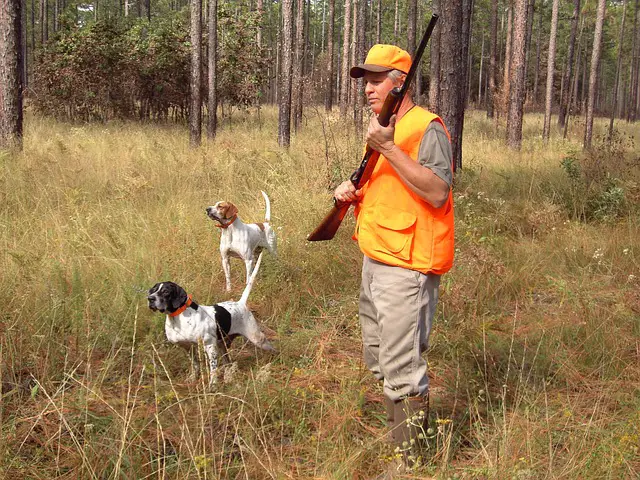 Winchester released the very first pump-action gun in 1897. This model, the Winchester 1897 (or M97), was an evolution of the company's lever-action rifle: the "gun that won the west" and even made its way into Turkish hands in the Ottoman Empire.
The pump action M97 was THE gun to have for American troops and their allied forces throughout the world from its inception through the 1950s and beyond.
That's a long time – the M97 has seen action in World War I, II, the Irish War of Independence (likely on the British side as the Irish Republicans preferred Armalites), Korean War, and even through Vietnam and the Gulf War.
What made the Winchester M97 stand out was its versatility during close-quarters combat and trench warfare – a major plus for troops fighting guerilla liberation forces. China also reproduced its own copies of the same model which were likely distributed to their allied forces during the same wars.
But it wasn't just used for combat – hunters also appreciated the advanced M97 for grouse, pheasant, and small game.
The Winchester M97 was available in 12- and 16-gauge varieties in several lengths and could be custom ordered during the time of its production.
With over 1 million produced during its long life, there's a good chance you could find a M97 floating around somewhere today – and for a reasonable price.
So that's a short pump action shotgun history of the original model that spawned the guns we all know and love today.
4 Factors You Should Think About Before Purchasing a Pump Action Shotgun
If you're new to the world of shotguns, you should familiarize yourself with a few of the main components.
Each pump action shotgun has a completely different design so understanding these parts and how they work can help you make the best decision possible:
1. Gauge
This is the first factor you should consider when choosing your pump action shotgun. 12- and 20-gauge options are the most popular and, as such, they are readily available.
The gauge, or "bore," refers to number of shot (balls) that fit through the diameter of the caliber. A 28-gauge shotgun, for example, has a 0.550-inch diameter and 28 balls which or the equivalent of one pound.
If you're a beginner or have a small frame, you should probably start out with a 20-gauge because it has less recoil.
Even if you're a small yet strong person, it can take some time to get comfortable shooting with such recoil. Why bother trying to trail your accuracy, form, and movements while fighting with the recoil from a 12-gauge?
At the same time, technology has improved the recoil on many 12-gauge varieties so this isn't as much of a problem as it used to be.
2. Choke
The choke is responsible for controlling the spread of your shots. Without a choke, the pellets would just scatter – it controls both spread and density.
The choke itself is a narrow part of the barrel and varies in size. A very narrow barrel near the muzzle is known as a full choke.
You have four choke options and your choice should depend on how you're using the gun:
Full choke

Modified choke

Cylinder or open choke

Improved choke
For the purposes of skeet and trap, you might as well go with a modified choke. This option is ideal for a variety of scenarios while an open choke is only suitable for shorter distances and an improved choke doesn't make much of a difference.
3. Magazine
This is where the pump action shotgun gets its signature pump action. Magazines store your shells before they're fired. When you want to more a shell from the magazine to the chamber, you pump the gun.
Seems simple enough, right?
Well there are a few different types of magazines – even within the realm of pump action guns.
Most shotguns utilize an integral tube magazine. Although double barrel options have faster firing power, tube magazines found in your average pump action is extremely reliable.
After all, companies have had over 100 years to get the basic technology right.
4. Modern Features
You can find a pump action shotgun with a variety of modern features these days.
Many include weather resistant coatings and parts. This is an important feature when you consider you might be shooting skeet and trap outside – rain or shine. You might be able to stand the rain, but your gun might not appreciate it.
Modern pump actions feature ergonomic designs around the trigger and grip. This might sound petty, but these factors give you a lot more control and, thus, a higher level of safety and accuracy.
You can also easily find push button shell stops which make it easier to remove spent shells without reloading the chamber.
How We Chose Our Ratings for the Best Pump Action Shotgun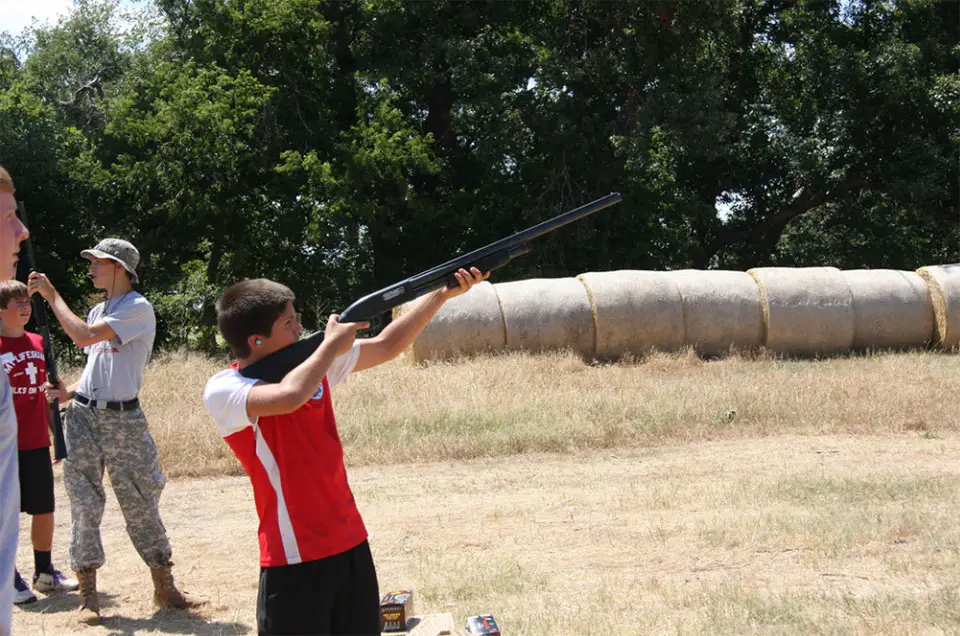 We know that you're probably bombarded with dozens of different choices. We picked the best 7 pump actions we could find — and then we ranked them.
All of our five-star ratings are durable, comfortable, and easy on your budget. If you're just getting started with skeet and trap, you probably don't need all the bells and whistles that come with a lot of guns designed for outdoor tactical use.
The four-star rankings are solid guns, but they might contain a bunch of features that aren't necessarily necessary for someone just getting into the sport of skeet or trap. If you're planning on hunting as well, go with these four-star rankings because they'll be the most versatile as you transition back and forth from the range to the woods.
Our three-star rankings are still excellent guns – we wouldn't include them if they weren't — but they might not be quite as versatile and quite as user-friendly as other choices.
In any case, it's important to make your own decision based on your own personal preference and experience. It really depends on what feels right with your body and comfort level.
7 Awesome Pump Action Shotgun Choices for Trap and Skeet
Now that you have a general idea of what you're looking for in a pump action shotgun, let's take a look at some of your best choices.
1. Remington 870 Express

The Remington 870 Express is touted as the greatest shotgun of all time by gun enthusiasts around the US and world. This 12-gauge shotgun with a 28-inch barrel is reliable and easy to use. The $300 (or under) price tag isn't rough on your wallet either.
With the Remington 870 you also get a waterproof design that makes it easy to eject spent shells and refill the chamber. Plus, versatile enough to use for skeet, trap, and plenty of hunting opportunities.
★★★★★
2. Winchester Super-X Pump (SXP)

It's hard to beat the simple and crisp appearance of the Winchester Super-X Pump. Despite being a 12-gauge, the bolt locking lugs absorb much of the recoil making it easy to use.
To top it off, this gun is fast. The aluminum action relies heavily on inertia which allows you to reload quickly between shots so it's ideal for any trap, skeet, or sport. You can find Winchester SXP models starting around $300.
★★★★★
3. Mossberg 500

If you want to accessorize, get yourself the Mossberg 500. This 12-gauge 28-inch shotgun features twin action bars and anti-jam technology to ensure a safe and smooth shot every time. The Remington 870 and Mossberg 500 are often thought of as the King and Queen of the pump action world (we'll let you decide which is which.)
If price is your main concern, the Mossberg 500 is a great choice because you can find models floating around for $200 or less. Despite the price, this shotgun is reliable and ready to withstand whatever you can throw at it.
★★★★★
4. Benelli Nova

If there is a pump action shotgun to compete with the Remington 870 Express, the Benelli Nova would be it. The Benelli Nova – also a 12-gauge with 28-inch barrel – incorporates modern technology to deliver durability with ergonomic design and crisp aesthetics.
It's not a semi-auto but it does contain a push-button shell stop for more control. The Benelli Nova was definitely designed with the user in mind. It's built for tactical outdoor conditions. This shotgun won't break the bank either since you can find models ranging between $400 and $600.
★★★★
5. Mossberg 835 Ulti-Mag

Like most of the pump actions on this list, the Mossberg 835 is also a 12-gauge, but the barrel is only 24 inches. This Mossberg features a six-round capacity and dual extractors to ensure efficiency and reliability.
This gun also includes special sights for added accuracy as well as an anti-jam system. To top it off, the Mossberg 835 Ulti-Mag is versatile enough for skeet, trap, and a variety of activities. The price will set you back around $500 for a basic model.
★★★★
6. Remington 887 Nitro Mag

If aesthetics and uniqueness are important to you, check out the Remington 877 Nitro Mag. But it's much more than just a pretty face. With the Remington 877 Nitro, you get the added bonus of fiber-optic sights and a reinforced ArmorLokt finish to withstand harsh conditions like mud.
This durable and reliable gun is manufactured with an ergonomic design for ultimate control and accuracy. Since even the standard model includes so many bells and whistles, expect these guns to start with a mid-range price tag around $450.
★★★
7. Weatherby PA-08

Weatherby set out to design a shotgun that would last – like really last. Seriously: they just shot the gun until pieces started breaking, made repairs, and kept on shooting. Now, they have the Weatherby PA-08 which can last over 6,000 rounds without breaking. If you're doing the math, that's 10 to 20 years of average use.
Not to mention, the Turkish stock and gold trigger look slick. If you're looking for something comfortable that's built to last, look into the Weatherby PA-08 or Upland model starting at about $450 and $500 respectively.
★★★
Comparison Table
| PRODUCT NAME & RATING | IMAGE | DETAILS | PRICE |
| --- | --- | --- | --- |
| Remington 870 Express | | Gauge12 GaugeBarrel Length 18 3/4″ to 28″Capacity4Weight – | |
| Winchester Super-X Pump (SXP) | | Gauge12 GaugeBarrel Length 24 inchesCapacity4, 2 3/4″ shellsWeight 6 lbs 14 oz | |
| Mossberg 500 | | Gauge12 GaugeBarrel Length ​-Capacity​7Weight 7 lbs | |
| Benelli Nova | | Gauge12 GaugeBarrel Length 28″Capacity–Weight 8.0 lbs. | |
| Mossberg 835 Ulti-Mag | | Gauge–Barrel Length –Capacity–Weight – | |
| Remington 887 Nitro Mag | | Gauge12 GaugeBarrel Length 28″Capacity4Weight 7.375 LBS. | |
| Weatherby PA-08 | | Gauge20 GaugeBarrel Length 26″Capacity4+1Weight 6-1/2 lb. | |
Choosing the Best Pump Action Shotgun for Skeet and Trap: A Buyer's Guide
With so many options today, it's hard to know which pump action shotgun to choose. You'll have to spend a lot of time practicing with this gun and maintaining it so you want to make the best choice possible.
Keep these tips in mind:
Future Plans: Are you using the gun strictly for sport or do you plan to hunt with it? Many states have local regulations banning the use of shotguns with a rifled barrel for hunting purposes.
Try Before You Buy: Shotgun owners have one thing in common: they love talking about the sport and different guns. Head over to a local skeet shooting range and test out some of the guns for yourself. Some fellow shooters might even let you test their prized possession.
Price: You can spend a few grand on a pump action shotgun if you really want to – but it's not really necessary. Beginners can find something that will last them years to come with a budget of just a few hundred dollars.
Other Options: A pump action shotgun might not be the best choice for you. Semi-autos reload a lot faster and might be better suited for your skeet and trap shooting style.
Buying a gun isn't like buying a laptop or phone – you won't know which one is right for you until you get out there and give them a try.Featured Image: CC BY-SA 2.0, by Mitch Barrie, via Flickr
Focus keyword:  pump action shotgun