If you thought last year was the best year for semi-automatic rifles, think again!
This year has completely revolutionized the world of the semi-automatic rifles. Manufacturers are getting more innovative, they're becoming more powerful, and the best part is that there's a whole heap of different types of guns to choose from.
Which ones belong in your gun cabinet, if any. Let's find out.
The 9 Best Semi-Automatic Rifles
These semi-automatic rifles are some of the best. At least that's what gun owners think. What do you think?
1. Colt LE6920

The LE6920 is a formidable tactical semi-auto rifle. It has a muzzle compensator to reduce the sound of the muzzle blast, and a 16.1 chrome-lined barrel for powerful shots. It also comes with a direct gas system for easy and dependable feeding. The Colt has a collapsible stock and detachable carry, making it mobile-ready.
But perhaps the most outstanding feature of this semi-automatic weapon is its 30-round Magpul magazine. This powerful shotgun is typically for military and law enforcement agencies — and it's obvious why.
This 6.9-pound rifle has a price between $1,000 and $1,300, depending on where you buy it.
2. Remington R-25

The Remington R-25 is 39 inches long with a 20-inch barrel. This 7.63-pound semi-automatic rifle is not only sleek and reliable, but it's also perfect for a 6.8 mm round.
In terms of performance, it is fast, accurate, and has a very impressive follow-up recoil which is reduced by its SuperCell recoil pad. Dual ejectors ensure reliable ammunition recycling, and the Hogue pistol grip gives you better control.
You can own this .308 Winchester Remington for $1,200 to $1,400.
3. Armalite AR-10 A2

The Armalite AR-10 A2 is a semi-automatic rifle suitable for both competitive shooting and tactical requirements. Its gas operated system propels the projectile through a tube, delivering a real kick.
It also comes with a forward assist and a sensitive button to ensure that nothing holds you back from making the perfect shot. The rear sight is easily adjustable to suit the wind patterns and elevation, while the 20-inch double lapped barrel provides the ultimate accuracy.
The Armalite AR-10 A2 .308 Winchester Tactical costs $1,700 to $2,200, depending on the retailer.
4. Wilson Combat HAM'R Ultimate Hunter

Bill Wilson, one of the best gun innovators of all time, has done it again. He's created a lightweight, combat semi-automatic rifle, with an 18-inch fluted barrel and a weight just over 7 pounds.
The Wilson Combat HAM'R features a .458 HAM'R cartridge and a magazine capacity of seven to nine rounds. The tactical pistol grip makes firing this rifle comfortable, as does the closed shoulder buttstock with limbsaver pad.
You can own the HAM'R for a whopping $3,000 to $3,300. You also have the option of adding accessories to this impressive weapon.
5. AP4 LR-308

For a price of $1,200 to $1,400, the AP4 LR-308 will certainly give you a lot of value for your money.
The AP4 is an exciting panther version of the long-range .308 assault rifle. It has a smaller, faster, and lighter carbine that packs a mean punch. Its unique A3 height receiver and A2 front fixed sight will make your shots pretty accurate.
At 8.5 pounds, it's heavier than most semi-automatic rifles on this list, and the 34.25 to 37.25-inch length may prove a challenge for some to handle.
But, if you can handle the weight, this military-grade weapon just might be the one for you.
6. Ruger Pistol Caliber Carbine

The Ruger Pistol Caliber Carbine is a fairly light rifle (under seven pounds) that is easy and fun to use.
It is pretty versatile -– you can thread the barrel and interchange the magazine. It also accepts both the Glock and the Ruger Sr. Series magazines. The Rugar has a light trigger and a nine-millimeter Luger caliber, making it both powerful and easy to shoot.
And you will love the price. The Ruger can be yours for $500 to $700, depending on where you choose to purchase it for yourself.
7. Barret REC7 DI

Although it's one of the pricier guns on the list at $2,450 to $2,650, the Barret REC7 DI is also the most innovative 22 rifle. It has a short stroke gas piston system that runs more efficiently than the conventional direct gas impingement system.
It is 36 inches long and weighs just over 6 pounds, making it easily portable and easy to handle. With its 10 to 30 round capacity, and Magpul six-position stock, and iron sights, this is a powerful gun.
8. Bushmaster 450 Rifle
If you are a true semi-automatic rifle fan, chances are you have heard about the Bushmaster 450 Rifle. After so many years, the Bushmaster is back, and this time, it is bigger and better.
The Bushmaster comes with a new carbine chamber for a bigger bore cartridge. It has a 20-inch barrel, a soft recoil pad, and a free-floating vented aluminum fore-end for easy handling and accurate shots.
It has a military spec aluminum forging, which is impressive and the price tag isn't bad either. This rifle costs between $1,200 and $1,400.
9. CMMG MKG-45 Guard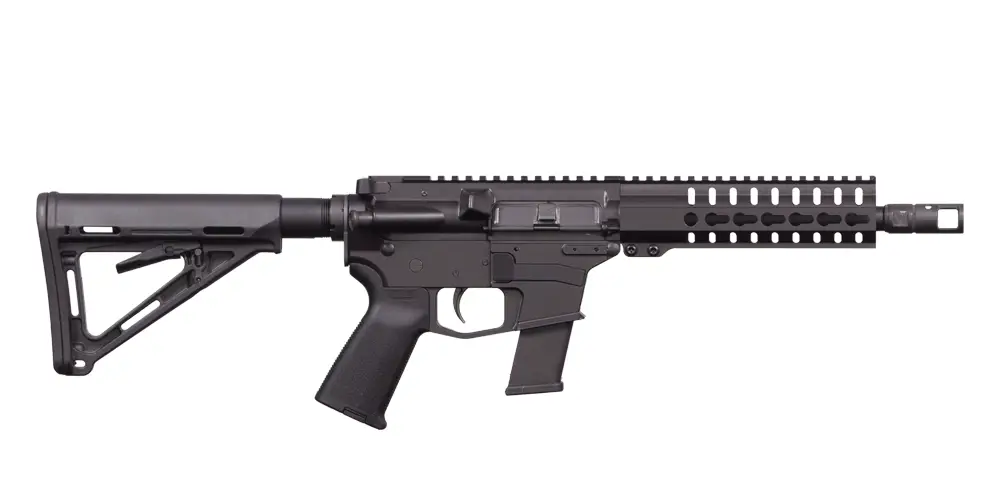 The MKG-45 Guard has a pistol-caliber carbine MSR chambered for the 45 ACP semi-automatic. It operates on the CMMG's exclusive delayed blowback system, making it one of the most effective and affordable rifles on the market right now.
It has a 13 round capacity and, the barrel length is only eight inches. With an aluminum frame, it's easy to wield. Aside from the look and feel of this semi-automatic rifle, people also love the price.
You can buy the MKG-45 Guard for $1,000 to $1,200, which is one of the more reasonable price ranges on this list.
Get Yourself One of These Semi-Automatic Rifles Today!
Even with so many guns for sale on the market, manufacturers are still releasing more sophisticated and powerful semi-automatic rifles each and every month. That can make it difficult to get the best one for you, especially if you are new to shooting.
Nonetheless, the semi-auto rifles above should guarantee you the most memorable shooting experience that money can buy. Use it as a guide to your perfect weapon.